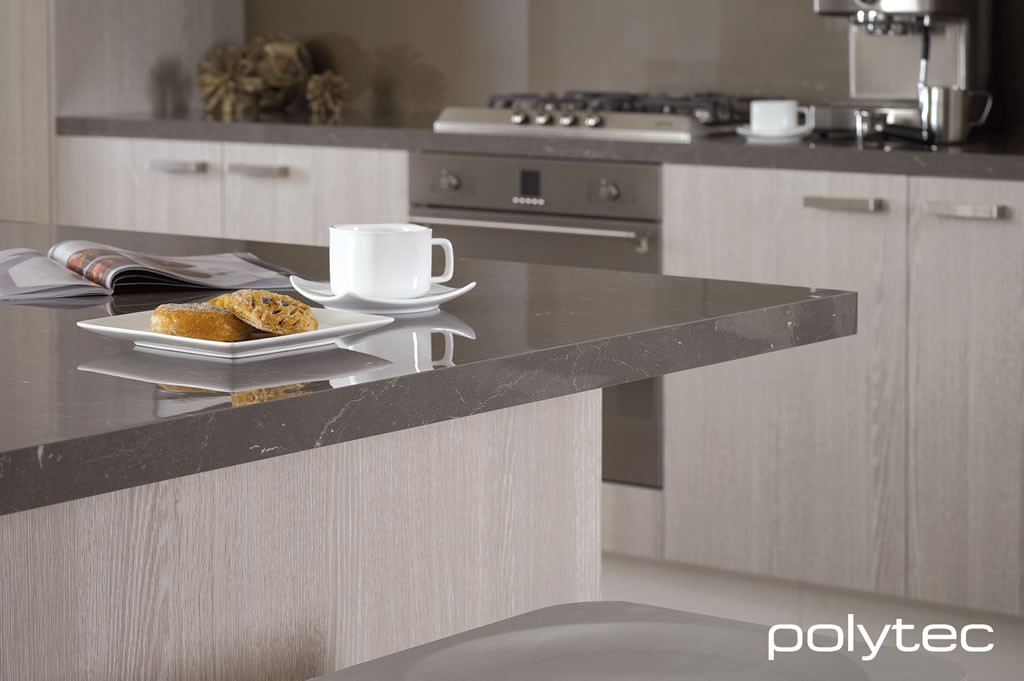 Choosing your benchtop
Finding the perfect bench top shouldn't be a challenge. Learn about different types of benchtops so you can find a surface that's right for your home and budget.
Laminate
Laminate benchtops are made from particleboard substrate with laminate finish. The result is a beautiful, affordable benchtop that's quite durable. Laminate benchtops resist water, are the easiest surface to clean and maintain and come in hundreds of colour and style options.  There are many very good brands available, such as Laminex, Duropal, Polytec, Wilsonart, Halifax Vogel, Formica, to name some of the best known.
Keep in mind that they sometimes have visible seams and edges and are susceptible to cuts and scratches. Laminate benchtops are less heat-resistant than solid stone but are a very economical option.
Solid-surface
Solid-surface benchtops are made of nonporous acrylic material for a visually seamless appearance. They are available in a range of colours and patterns, including some eco-friendly options, and offer the option of an integral sink and backsplash. Solid-surface benchtops resist water, bacteria and stains, providing a low-maintenance option for your home.
Solid-surface benchtops are susceptible to scratching and less heat-resistant than quartz or granite.
Granite
Granite benchtops are crafted from beautiful, durable, natural stone.  Visually rich and dynamic, they're highly heat-resistant and can stand up to stains and bacteria.
Granite benchtops do have visible seams and are one of the dearest bench top options.
Engineered Stone
Engineered stone is a composite stone manufactured from about 91-94% crushed quartz aggregate and  6-9% polyester resin. This composition creates a stronger slab than natural stone with better scratch & stain resistance properties.
Engineered stone is generally stronger than granite, available in a range of colours and is stain resistant.
Benchtops have gone from being just the thing you rolled out the pastry, or mashed the spuds on, to a major & integral part of the working space in the kitchen.