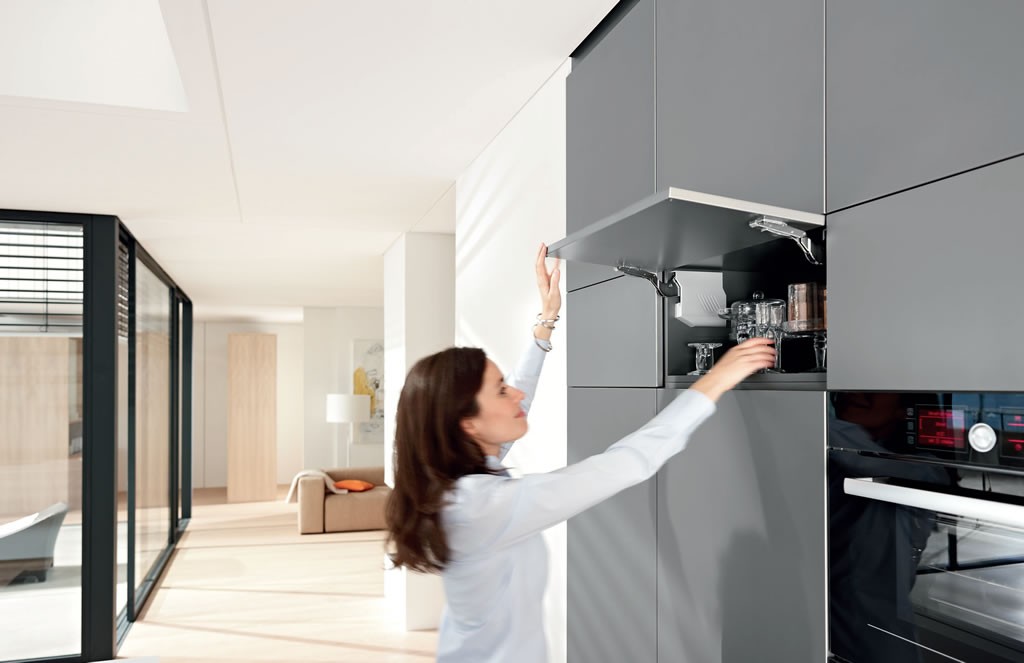 Aventos
Experience unique comfort of motion with aventos lift systems
Imagine you are emptying glasses and dishes from the dishwasher and putting them away into the wall cabinet. With AVENTOS, the front moves up, away from the work area; the lift system remains in position once you let go. Both hands are free and you have optimal access into the cabinet interior. AVENTOS always closes silently and effortlessly thanks to integrated BLUMOTION soft-close. No more ducking and weaving around your wall cabinet cupboard doors.
Whether in the kitchen or living area, AVENTOS is the ideal solution for wall cabinets. Whether there is ample or little space or cabinet fronts are small or large, there is an AVENTOS lift system to suit the desired application. Solutions for a bi-fold, up and over, parallel lift and stay lift applications are available. There is even a solution for wall cabinets of small height; AVENTOS HK-S stay lift. This is ideal for applications above the refrigerator or pantry.
Be inspired by SERVO-DRIVE for AVENTOS electronically-supported opening and closing. A light touch on the front is all that is required, for opening and closing is as simple as the press of a button. Combining AVENTOS with SERVO-DRIVE together with integrated BLUMOTION offers a complete solution for an all-round, high level of movement.
Experience the full range of Blum cabinet hardware solutions and learn more about the science behind your perfect kitchen at a Blum showroom. Find your nearest showroom at www.blum.com.au